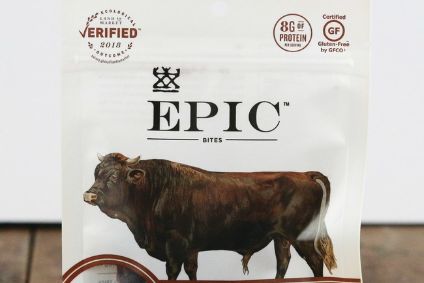 There's a movement brewing in the US – and in some international markets – that's uniting a growing number of farmers and food companies.
The movement centres on a commitment to be better stewards of farmland and to offer the benefits of this practice – dubbed regenerative agriculture – to consumers in the form of food and drink products produced in a more sustainable way.
In a nutshell, regenerative agriculture is a holistic land management practice that uses the power of photosynthesis in plants to close the carbon cycle and seeks to build soil health, crop resilience and nutrient density.
Regenerative agriculture improves soil health, primarily through the practices that increase soil organic matter. This, proponents argue, not only helps boosts soil biota diversity and health but increases biodiversity above and below the soil surface, while expanding water holding capacity and sequestering carbon at greater depths, thus drawing down climate-damaging levels of atmospheric CO2 and improving soil structure to reverse civilisation-threatening human-caused soil loss.
In the pre-World War II era before the advent of modern pesticides, herbicides and fungicides, regenerative agriculture was basically the norm in farming out of necessity. The use of cover crops to provide nutrients for crops, for example, was about the only game in town for farmers, along with the use of natural fertilisers like manure.
But the post-war era brought industrialisation to the US (and other western markets) and, along with it, the industrialisation of farming and the introduction of modern agrochemicals. That allowed farmers to dramatically increase crop yield per-acre and help meet the goal of feeding the world inexpensively, which leaders like FDR and Churchill took on as part of the mandate after defeating Hitler. If the west was going to lead the world, it had to feed the world cheaply.
But seven decades later in 2019, it appears the western industrialised world is heading somewhat full-circle when it comes to food produced from crops grown using agrochemicals. Clean label is the new cheap food in some consumer circles – and parts of the food industry are responding.
Nothing sums this up better than this statement from a piece written recently by Emmanuel Faber, CEO of Danone. "My conviction is that the food system which we live with is out of breath. We need a Food Revolution, as we have called it at Danone, to provide 9 billion humans with healthy food, while preserving and even restoring the natural capital in the coming years. We need to reconnect, resynchronise the food chain."
He added: "Food standardisation, where consumption is disconnected from natural biorhythms, has led to unprecedented stress on our ecosystems, water resources, soil fertility, biodiversity and ultimately on our food security. Business has a major role to play."
Danone, Faber claimed, "is engaged in a deep transformation process" and "reinventing our business, our relationship with farmers and our partners to provide food that respects the people and the environment".
The French group and General Mills are the two Big Food companies leading the charge for regenerative agriculture. Danone has made a major commitment company-wide through its Regenerative Agriculture Initiative and its related One Planet, One Health programme.
General Mills has made a huge commitment to regenerative agriculture through is sustainability initiatives. The Minnesota-based food maker is going big in regenerative agriculture, particularly as it involves its Annie's and Epic Provisions brands. Annie's has the most extensive regenerative agriculture initiative of any single food brand out there, based on my research, while Epic Provisions has committed to sourcing 100% grass-fed bison by the fall of 2021
There are, meanwhile, a host of smaller food and drink companies, as well as farmers, who've been practising regenerative agriculture for decades and have created their own food brands, like Burrough Family farms in California's Central Valley.
Organizations like Kiss the Ground and HowGood are also taking leadership roles in promoting regenerative agriculture to farmers and food companies, as are academic institutions like Chico State University in California, which last year created its Regenerative Agriculture Initiative in partnership with food companies and farmers to advance research in regenerative farming, involve the food industry and promote the practice to industry and consumers alike.
"If the momentum continues, 2019 will go down as the tipping point in the US for regenerative agriculture"
If the momentum continues to the same degree we've seen over the last year, 2019 will go down as the tipping point in the US when regenerative agriculture shifted from a fringe concept practised by innovative and conservation-minded smaller farmers and promoted by small, sustainability-focused food entrepreneurs, to the beginnings of mainstream status in food and farming.
Regenerative agriculture and its connection to the consumer packaged goods industry was front and centre in March at this year's giant Expo West convention and trade show in southern California. Much of the buzz around the seminars on the topic and the booths of companies exhibiting food and drink products based on regenerative farming practices was that it's beginning to change the food industry on a global scale. That's pretty serious talk. And much of it came from pretty serious industry people.
Drink brand Rebbl, for example, debuted a booth at Expo West featuring a global sourcing map that identifies the places the company sources ingredients that are grown using regenerative farming practices.
Rebbl is using regenerative agriculture to reduce its emissions, strengthen its supply web and chain, make a positive impact on communities, lower long-term costs and appeal to conscious consumers. Its mission is to take a holistic view by sourcing ingredients grown using regenerative agriculture as a way to draw carbon back into the soil. Meanwhile, companies and groups like Rodale Institute, a pioneer in organic food and farming, have created certification seals for products falling under the regenerative agriculture framework.
However, food and drink companies should not rush into certification seals. The marketing needs to come after the commitment to what is a serious and holistic farming practice. And marketing needs to be seamless with a company's mission.
Here are five other CPG companies that are doing some very interesting things on regenerative agriculture:
Dr. Bronner's: Founded over half a century ago, Dr. Bronner's is a pioneer and leader in supporting regenerative agriculture and creating products based on regenerative farming practices. The company works with its suppliers and their farmers globally on regenerative agriculture programmes then uses the crops grown in its consumer products.
Alter Eco Foods: The chocolate maker is working to combat deforestation in the environments where their cocoa beans are sourced. In partnership with Acopagro Coop, Alter Eco is helping to regenerate the soil of the farmers who grow their cocoa beans using a variety of regenerative practices.
Maple Hill Creamery: The popular yogurt brand sources its milk from farmers who milk only grass-fed cows. They promote planned grazing to regenerate the soil among their farmer-partners. Planned grazing encourages biodiversity and sequesters more carbon, which lessens the impact of emissions.
White Leaf Provisions: The produce used by White Leaf Provisions (mission statement: "Healthy Soil, Healthy Food") is grown by farms that practise regenerative techniques, such as using natural compost, cover cropping, crop rotation and low tilling.
Patagonia Provisions: The food and drink arm of the clothing company Patagonia was founded with the express intention of creating regenerative and organic food products. One of its newest products is a drink called Long Root Ale, which is made with kernza, an ancient grain grown using regenerative agriculture practices.
Regenerative agriculture or farming isn't a new concept. It's an attempt to replicate natural ecosystems that allow the Earth to thrive by encouraging natural processes and biodiversity.
What is new is it's starting to be seriously embraced by parts of the food industry, including giant packaged goods groups like Danone and General Mills, along with fast-growing companies with cutting-edge emerging brands.
A word of caution, though. One danger food and drink companies face with regenerative agriculture is its potential to be over-hyped, both as a near-term, large-scale practice for growing food and with regard to marketing and promotions.
We aren't going to feed the world in ten years with regenerative agriculture. But someday the practice could become a vital tool in serving the planet's growing population.
Food and drink companies should get in the game – if it makes sense. For companies involved – and those thinking about becoming involved – in regenerative agriculture, put your mission before your marketing, and then make mission and marketing a seamless process. Keep it real.
just-food columnist Victor Martino is a California-based strategic marketing and business development consultant, analyst, entrepreneur and writer, specialising in the food and grocery industry. He is available for consultation at: victormartino415@gmail.com and www.twitter.com/nsfoodsmemo.